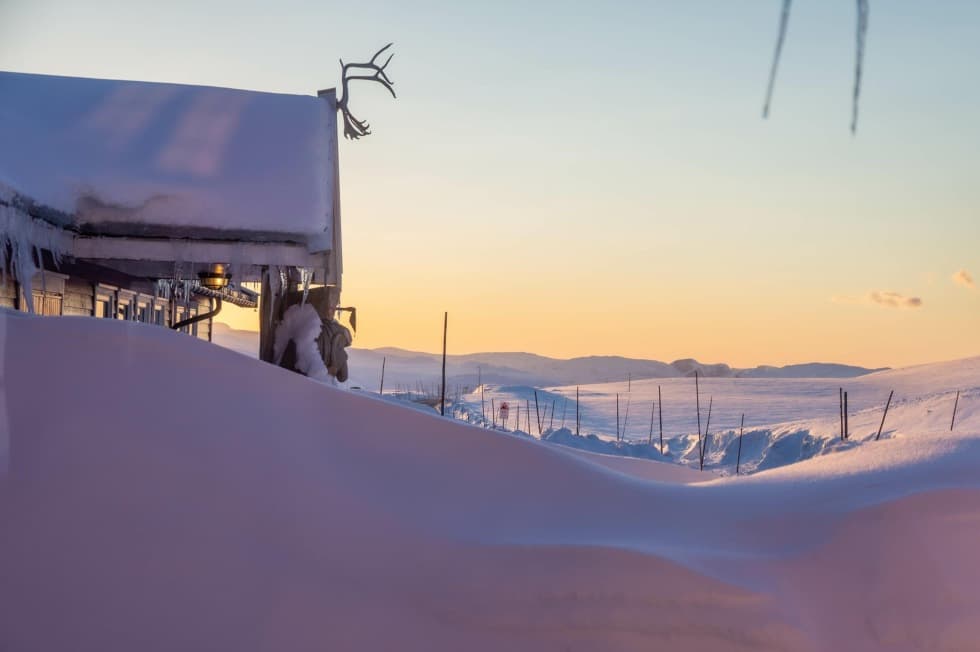 Restaurant Dyranut - full board
Norwegian cuisine is based around ingredients which were and are available in the Norwegian countryside. A lot of traditional Norwegian products, such as dried and salted fish, smoked meat, flat bread and Gammalost cheese, last a long time without needing to be refrigerated. Compared to continental cuisine, fish and seafood are much more prevalent in Norway, and the excellent salmon and Gjetost (brunost) – which means "goat's cheese" or brown cheese – in particular stand out. The latter is a sweetish brown cheese made from whey, milk and sometimes also cream, most often from a mixture of goat's and cow's milk. When the mixture is heated for several hours, the milk sugars turn to caramel, giving the product its final dark colour.
✔️Breakfast - in the basic half-board package, I would like to highlight the breakfast. You get up in the morning with fires already roaring in the fireplaces, and enjoy some Norwegian delicacies with a direct view of the snow-covered Hardangervidda. Delicacies such as smoked salmon, caviar, pickled fish, Norwegian salami, cheese and pastries baked fresh every day can all be found on the breakfast table. Cereals, vegetables, yoghurt and jams are also of course available, all in Norwegian style.

✔️ Lunch soup - we've included lunchtime soup in the half-board price – it is made fresh every day and is absolutely amazing – again served with homemade bread.

✔️ Dinner - meat, fish, vegetables, salmon and lots of surprises. We always also offer dishes suitable for vegetarians or people on gluten-free diets.

✔️ Coffee, tea, water - Coffee, tea and water - available all day and included in the half-board price. Hot water is also provided in the morning to fill your thermos flasks.

✔️And surcharge - Subject to an additional fee – you can pay extra and choose from a varied daily menu of Norwegian delicacies such as traditional reindeer, local fish, burgers, steaks, homemade waffles, and various cakes baked fresh every day.